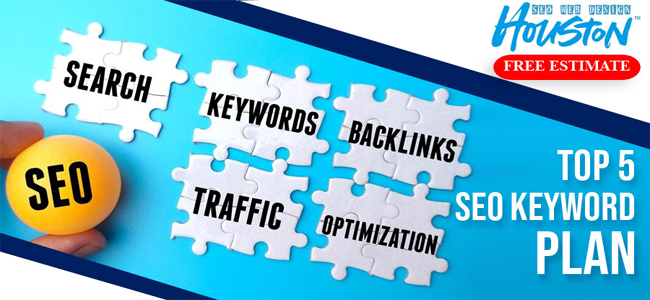 How To Put Top 5 SEO Keyword Plan into Action and Avoiding Mistakes –Houston SEO Consultant
What's the right number of keywords for a webpage? There's no one-size-fits-all answer because it depends on various factors you need to think about when planning your content. Nevertheless, there's definitely a wrong way to approach SEO that won't lead to success in Google's search results.
As someone who's been a Houston SEO Consultant for more than 20+ years, make sure you focus on these important words:
Watch out for SEO agencies that try to sell you 'Keyword Pages'.
Although every SEO plan needs a keyword strategy, it doesn't mean you should make a webpage for every synonym, variation, and plural form of each keyword. In fact, you'll be unsuccessful if you do that. You can use a SERP checker to assess your website's traffic and learn how to boost it.
Nobody wants to invest their time and end up with subpar content produced by writers who are not fairly compensated. I use the term "underpaid" because numerous talented writers are undervalued, yet they continue to write because it's their passion. Even so, they won't conduct the necessary research unless they share the same enthusiasm for your industry as you do.
There's no such thing as 'Keyword Pages'.
Search engines are designed to assist users in finding the information they're looking for. Nowadays, users anticipate quick and high-quality results that will guide them to answers or engaging content.
Here's how to tell if an SEO agency is trying to scam you with "Keyword Pages."
They usually offer SEO packages based on a pricing model per single page.
They will insist that you create a separate page of content for every keyword, including plural variations of a term.
When you read your content, it will seem repetitive and redundant.
The agency hasn't done any research on your audience or conducted any type of discovery.
The pages often look like low-quality landing pages with minimal content. They'll explain to you that these pages are designed to "Capture Long Tail Keywords."
Don't be deceived by these false claims. I've witnessed many businesses fall into this trap, wasting tens of thousands of dollars. – Mark
A genuine SEO strategist will invest more time in thorough planning at the outset.
Here are some tips to keep in mind when you begin your search for the right SEO company:
A reputable SEO company will request a meeting with you to conduct a discovery. The aim of this meeting is to gain insight into your audience, industry, influencers, and brand.
During keyword research, their primary emphasis will be on categorizing keywords by audience personas rather than web pages. Each keyword search is driven by an intent, typically tied to a specific type of audience conducting it.
Their main objective will be to develop valuable content resources that resonate with your customers or industry influencers. Depending on the situation, this might involve creating comprehensive, in-depth content like "The Ultimate Guide to…," or it could be more beneficial to use vide or infographics.
You won't hear them talking about keyword density. It's an outdated term that has no place in modern SEO discussions. SEO has evolved well beyond keyword density and should be left in the past.
You'll receive a clear, time-bound objective for your Google rankings. The quantity of keywords won't be the focus. What truly matters is comprehending your business goal and achieving it.
Your discussions will revolve more around your business and your target audience, rather than being bombarded with constant talk about title tags and meta data.
Regrettably, numerous small businesses lack the time to stay updated with the ever-changing SEO trends, which evolve significantly year after year. The process of hiring an SEO agency in one year might appear quite distinct in the subsequent year.
If you're not well-versed in "Google's latest trends," don't hesitate to conduct a Google search using keyword phrases like Houston SEO, SEO Agency Houston, Houston SEO Expert, etc. This will help you identify agencies that are actively implementing their expertise, making it a good place to begin your search.
If you found this article interesting, you'll be excited to explore the topic of Voice Search.
About Author – SEO Web Design Houston
Mark is CEO & Founder of SEO Web Design Houston and a

creative thinker in charge of SEO Web Design Houston. He's really good
at SEO and making websites. He's been doing this for more than 20+
years and is always trying new things in the online world. His skills in
SEO & Web Design acquiring a deep understanding of the algorithms
and strategies that drive online success.
https://seowebdesignhouston.com/wp-content/uploads/2023/11/SEO-Keywords-Plan.jpg
300
650
SEO Web Design Houston
https://seowebdesignhouston.com/wp-content/uploads/2020/06/SEO-Web-Design-Houston-Logo.png
SEO Web Design Houston
2023-11-03 09:34:03
2023-11-07 13:22:18
How To Put Top 5 SEO Keyword Plan into Action and Avoiding Mistakes –Houston SEO Consultant